Products

Myristyl chloride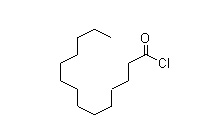 Product:Myristoyl Chloride(tetradecanoyl chloride)
Molecular formula:C13H27COCl
Molecular weight:246.82
CAS No.:112-64-1
Property:The product is colorless or light yellow transparent oily liquid with strong irritating odor. Melting point:-1℃ ,boiling point:168℃ (1.995KPa) .Miscible with organic solvents, soluble in ether. Meeting water and ethanol generate decomposition.
Quality standard:Confirm to Q/HSL 04-2010 enterprise standard:
Appearance:Colorless or light yellow oily liquid
Content:≥98.0%
Free chlorine:≤2.0%
Use: Used in pharmaceutical, pesticide, surfactant intermediate and organic synthesis material.
Packing:100kg,200kg plastic drum
Safety measure:Refer to Myristoyl Chloride Safety Technical Instruction.